Pirate's Ship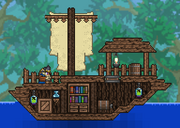 The Pirate's Ship is a structure generated at world creation on the top of the Ocean with water. It is a ship built mainly from Spooky Wood, Platforms, Walls and Fences.
The house contains some wooden furniture, a Keg, a Bottle and a Alchemy Lamp, a barrel filled with unique loot and an Bound Pirate.
Notes
When going on a ship, a Pirate's voice called and a text pops up to Bound Pirate for help to rescue him.
History